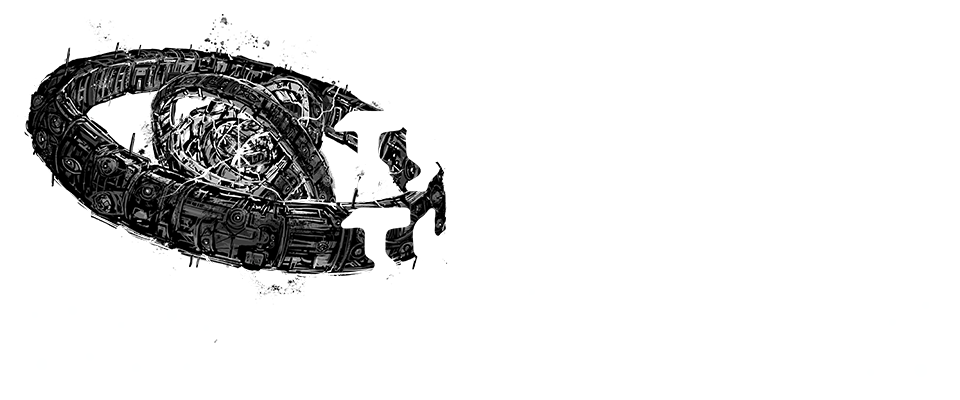 Through The Void is Itchfunding
After the Solar Wars almost nothing was left....
Empires demolished, cultures destroyed, the Legion scattered across the void as a shadow of it's former self. All that remains is the 3TR-N5 station, Eternus.

Looming in the middle of the space, an impossible structure built of rings within rings, constantly shifting, whirring, and changing. Surrounded by the inky blackness of space and the vast ruins from generations of a war that slowly whimpered out. For decades now Eternus has survived on the salvage of bygone eras, small outlying colonies, and asteroid mines along with the sweat, toil, and blood of Drifters, those desperate few willing to leave the safety of the rings and go... Through the Void.
Through The Void is a minimalist OSR (Old School Renaissance) inspired RPG for 1-7 players by Tony Vasinda and the Plus One Team. The core rules of the game fit on 1 sheet of paper. Explore abandoned asteroid mines, hulking relics of the solar wars, and lunar labs. Through The Void provides the characters sheets, rules, and procedures you need to build thrilling space adventures and all you need are pencils, dice, and a few hours with your friends.

We are Itchfunding the ashcan beta version of this game with original art by Alex Mitchell, ship rules by MV, and content from a host of others leading up to our Gamefound campaign this spring for a full 80 page print version. Purchasing the game at the levels below will unlock additional content in the ashcan version!
$5 Void Crawler
A copy of the Through The Void Beta Ashcan! Add a community copy.
$12 Mission Lead
A copy of the final digital zine later this summer + ashcan + 2 community copies.
$80 Station Commander
A copy of the final digital zine later this summer + ashcan + 10 community copies
+ get immortalized as an NPC & play a session with Tony Vasinda.

If you can't afford to support us, please grab a community copy below!
Anytime someone supports the game or reviews the game we add more communities copies!


THE FINAL GOAL! | The Rolim/Damaceno Mission
Two of my favorite #RPGLATAM creators team up to do what they do best. Make amazing content for RPGs. Lucas Rolim & Alex "Gnarled Monster" Damanceno will be creating the first Mission for Through The Void! What's a mission? How is it different that a Drift/Dungeon? Missions add more to the world and have more format freedom than our 1 page missions. Some are point crawls or hex crawls, others add factions, locations, or npcs. Some operate on completely unique parameters. I am so excited to partner these two amazing creators and see what they craft in the void!

After this the itchfunding for the ashcan will be complete 20 pages of game material and 1 stand alone mission... but there's more.

We have 3 secrets in the works.
For ever $150 we raise on the way to our final goal we will announce one more cool thing you can expect in the lead up to the final version of Through The Void.
1.??????
2.??????
3.??????
What is Itchfunding?
Itchfunding is a more humane way to crowdfund the development of a game. Unlike Kickstarter or other platforms we are able to release content in advance it gives us the funding we need to make a more complete project. Plus One has been an advocate of itchfunding since it's inception and we love seeing how other people use the tool. For more on itchfunding check out our video series on the topic at youtube.com/plusoneexp. No matter what level of itchfunding we hit, it brings us closer to the full version of the game.
Through The Void is a Together We Go game based on Down We Go by Markus Linderum. Find out more Down We Go here.



Purchase
In order to download this game you must purchase it at or above the minimum price of $1 USD. You will get access to the following files:
Through The Void Core Rules Beta 0.4
2 MB
TtV Early Beta .02
if you pay $5 USD or more
TtV Final Digital Placeholder
if you pay $12 USD or more
Exclusive content
Support this game at or above a special price point to receive something exclusive.
Press Copies
If you are looking to review this game on stream, a blog post, or some other channel please grab a free copy and tag us @plusoneexp so we can help share your content!
Commander Commission
Did you already purchase Through The Void, but now you want that commander upgrade? Did you know buying commissions was a time honored practice? If you want to upgrade your status and access the Station Commander benefits this is the level for you.
To be eligible you must have already purchased the complete complete version of the game for $12+. Otherwise please check the Station Commander pledge
Station Commander
You put your credits and your life on the line.
Station Commanders become immortalized in Through the Void as an NPC and get to play in game run by Tony Vasinda. You also add 10 community copies and get the ashcan and final digital version of the game.
Community Copies
Surviving in the harsh void of space takes resource and credits, playing games shouldn't. If you can't afford Through The Void please grab a copy of the core rules for free!

If you like it feel free to leave a review! Anytime someone reviews the game we add another community copy!
Comments
Log in with itch.io to leave a comment.
Is there a deadline for the campaign or it's until the goal is reached?
End of the month (Jan 31st) but we will keep on developing it behind the scenes. Itchfunding isn't all or nothing so It'll just get better as we go until we release the full game.
I guess there's a mistake in the hits section of the character sheet, it names "Mech" as one of the specialities. That should probably be Merc?
GOOD Catch! I knew there was a typo I had lost track of the other day but couldn't find it!