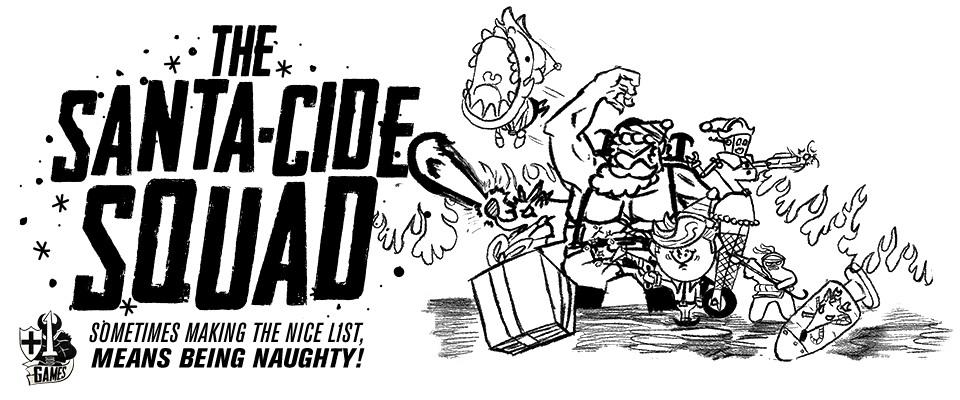 The Santa-Cide Squad
It's December 23rd at the North pole, and everything is in full Christmas swing!!!
Or at least it seems to be...
No one ever thought your motley crew of washups, burnouts, and cotton headed ninny muggins would ever be much of a help, but there you found yourselves. Called up in front of Santa, the Big Man himself and confronted with two realities
1. Christmas is in trouble.
2. Sometimes Making The Nice List,
Means Being Naughty
In The Santa-Cide Squad you play as a motley crew of North Pole Denizens, who beyond anyone's guess, are now the last best chance to save Christmas, and get yourselves off the naughty list. An item or person has been taken from the North Pole, and you dear denizen, have to get it back.
You have 2 stats, Nice and Naughty.
Use Nice to do thing that would move you up the nice list and spread Christmas Spirit. Share your cookies, protect someone, make a sacrifice, etc.
Use Naughty to do things that aren't nice, but may need to get done anyways.
Will you be able to overcome the Anti-Christmas forces, retrieve the goods, and make it back by sundown on the 24th?
The Santa-Cide Squad is a tabletop roleplaying game created for one shot play and spreading Christmas Cheer between 2-6 players.
Inspired by, Rowan, Rook, & Decard's Honey Heist this game only requires the 2 core rule pages, paper, and writing utensils to play. However, we kringled in a bonus character sheet and GM page into the game also.
If you are looking for a game that is one part Christmas Claymation film, one part The Italian Job, and on part Suicide Squad. You found it.

For a very Christmas Claymation take on the game watch us save the world with Quackalope & Crew.

For a very Suicide Squad version of the game watch our actual play with Sarah Frank, Bright Dystopia, The Noir Enigma & R. Alex Murray.

Purchase
In order to download this game you must purchase it at or above the minimum price of $3 USD. You will get access to the following files:
Santacide Squad Color
1 MB
Santacide Squad Fillable PDF
3 MB
Exclusive content
Support this game at or above a special price point to receive something exclusive.
Community Copies!
Santa want's you to have this game! If you can't afford it for any reason go ahead an grab it