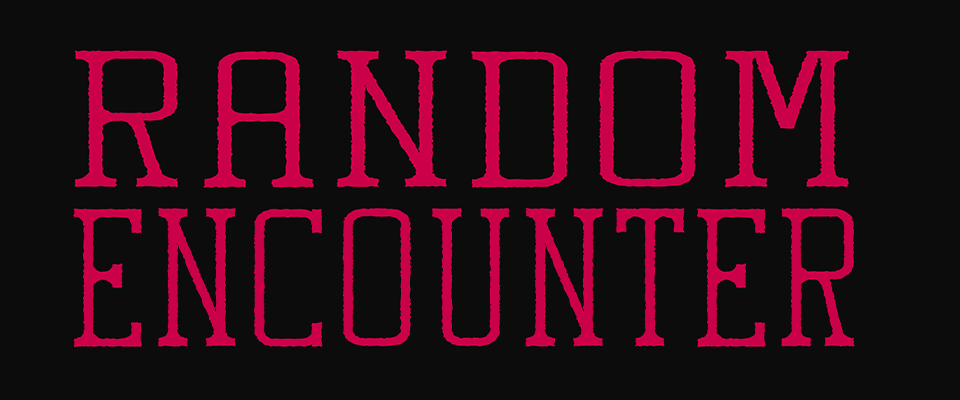 Random Encounter
A con is a lot like a dungeon.
You never know what you'll encounter...
Random Encounter is a social RPG played during Conventions. We are beta testing it at PaxU December 11th as a 1 day event. All the rules are listed below.

Making A Character
Your character is based on you. To build your character list your name, your quest, one thing you are good at, and one thing you are carrying with you. This can be as concrete or abstract as you want them to be. Also pick two stats you have and assign 6 points between them.
Getting An Encounter
To play, find an Encounter Giver. This is someone wearing the Random Encounter Shirt or displaying their character sheet. If you have a friend who is playing you can even give each other Encounters to complete also.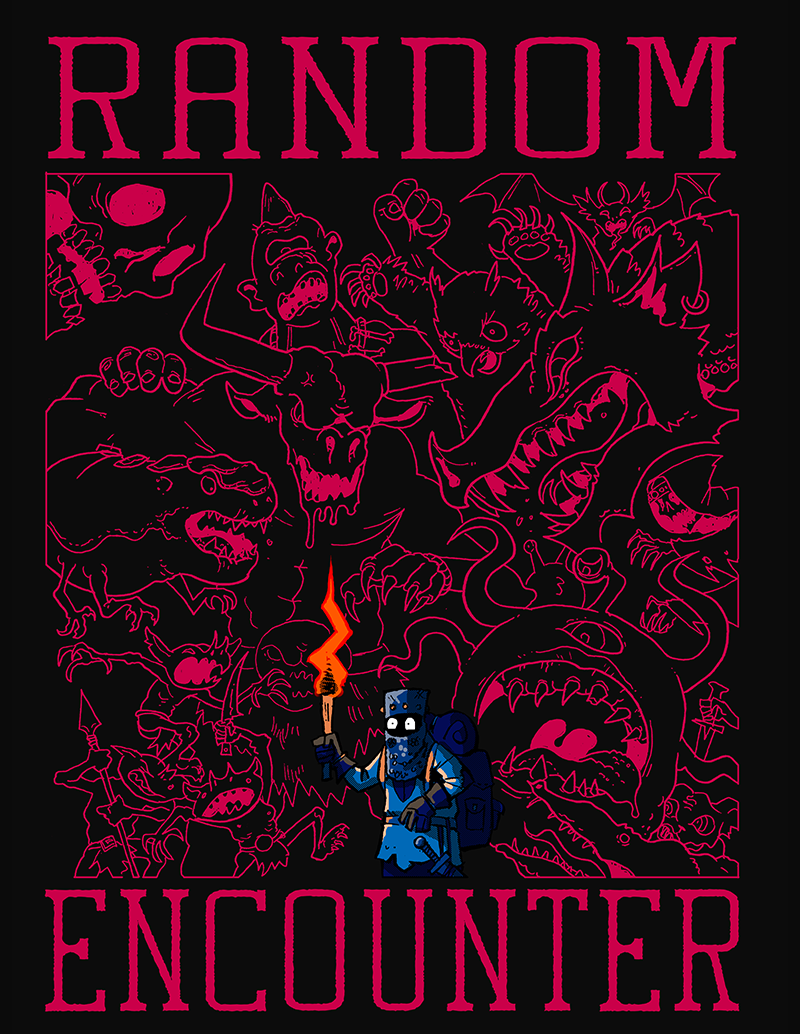 Overcoming Encounters
You have two options for overcoming encounters.
1. You can roleplay through it with the Encounter Giver and then make a roll on a set of D6 to see if you succeed. Each encounter has a difficulty from 1-4. This is how many successes you need to overcome it. You get a success when you roll at or under the stat you are using. You get 2 successes anytime you roll a 1.

You always roll at least 1 die, but you extra dice if your quest comes into play, you do something you are good at, or use something you are carrying, OR if you have a friend help you. The max number of dice your roll at anytime is 4.

2. Alternately you can actually solve the prompt in the physical space of the con and post a picture of it w/#RandomEncounter & #PAXUnplugged. If you do this, show it to the Encounter Giver to automatically succeed.

Exp Points & Leveling Up
Every time you overcome an encounter you gain 1 Exp Point. The person who gave you the encounter will initial one box on your experience tracker. Every time you complete a line boxes you can add something new you are good at and add a new item to your carry list.

Win Actual Loot
At random times during the game Tony will post unique encounters to the @PlusOneExp twitter. These encounters will let the first person to finish them win a copy of a game, swag, or other items.
Random Encounters
The list of encounters is built specifically for each convention in the 48 hours before the event. They will be linked here by Friday December 10th for the game on Saturday.

This game is in no way associated with PaxU. It is an unofficial event that's just for funsies.
Download
Click download now to get access to the following files:
Random Encounter Pax Images
2 MB
Random Encounter Pax Fillable
507 kB
Exclusive content
Support this game at or above a special price point to receive something exclusive.
Random Encounter Shirt
If you want one of the shirts for Random Encounter we have a very limited number in assorted colors and sizes. This are only available for pick up at PaxU from Tony. We will not ship them.

In the future these shirts will be widely available.
Create An Encounter
If you want to create an Encounter based on your game, booth, or project at PaxU let us know. It can't require people to spend any money or force them to interact with you directly, but it can encourage them to come by.