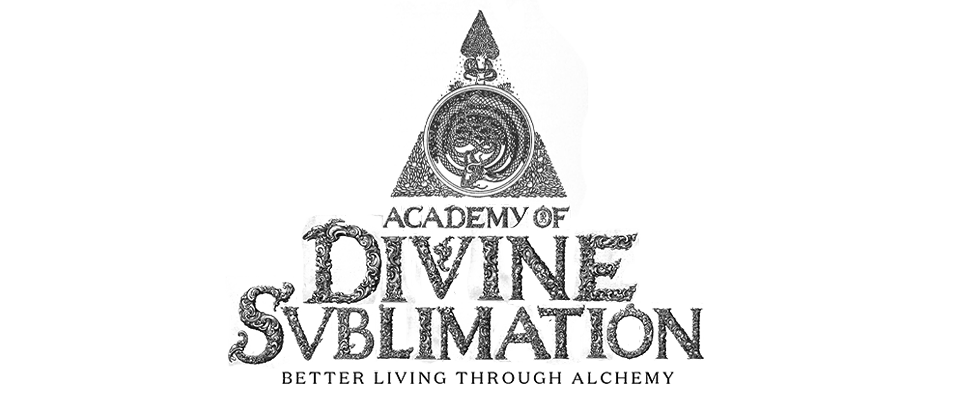 Academy of Divine Sublimation
What's that you say?
You didn't know there were alchemists in Troika City?
My dear child that's exactly what we wanted you to think.
But let me ask you, who makes the plasmatic cores? How do you think the barges power their way between the spheres? Who makes the Bonbons you love so dearly?
It is us my child, the alchemists.



Step into the halls of the Academy of Divine Sublimation, where all that is numinous becomes clarified, and all that is clarified becomes more than you ever dreamed.
While the wizards at the Academy of Doors dismiss the alchemical arts as unreliable, and the sorcerers from the Academy of Friends view the transmaterial craft as a mere theoretical fancy, the Hermeticist of Divine Sublimity know that all of these views are simply base mistakes waiting to be transmuted into the true wisdom of the eternal philosophy.

Here at Academy of Divine Sublimation we specialize in the transformative, distillatory, and frumentary arts one true unifying theory of the spheres... Alchemy.



The Academy of Divine Sublimation is a third party supplement for use with Troika or other Old School Style RPGs in search of a more robust understanding of Alchemy and the Hermetical Arts. It was gestating for a while, but sprang forth like the dawn this Friday the 9th when the Great Bearded Alchemist and the Eternal Poet Warrior convened in the inner sanctum of the TroikaFest! Sphere and gave it word, shape, and form. You can watch that video up above to get a taste about some aspects of the Academy.



At the start Academy will be simple. A Troika! Chapbook Formulary formatted for digital distribution and consumption including:
- Basic Troika! Compatible Procedures for Alchemy & Distillations.
- D36 Distillations for use in Troika! or other games.
- A Custom Oops! Table For Distillation and Brewing
- 6 Alchemical Backgrounds

We are ItchFunding this project to make it bigger and better! Help us transform this project from it's base beginnings into numinous eternal silver! As the project gets more funding and resources we can expand the project including with more art and content.

$100 | Custom Oops! Alchemy Table For Consumption
$200 | 18 More Delight Distillations
$300 | 6 Additional Backgrounds
$500 | Procedures for Field Alchemy & Reagents List
$750 | Tables For Fleshing Out Your Academy
$1000 | An AoDS Adventure and Hook Tables
$1500 | We Will Print This Best Version of This Book

ItchFunding is an alternative Kickstarter that is more considerate of community input and creator needs. It increases project accessibility and we are huge proponents of this new funding model.

We are funding this project to pay for art, layout, a print run, and to bring in extra collaborators. If we hit $500 we will print a version of the book. $1500 lets us print the best version and put money in our Plus One Forward creators fund.

Here is a mock up of the planned print project.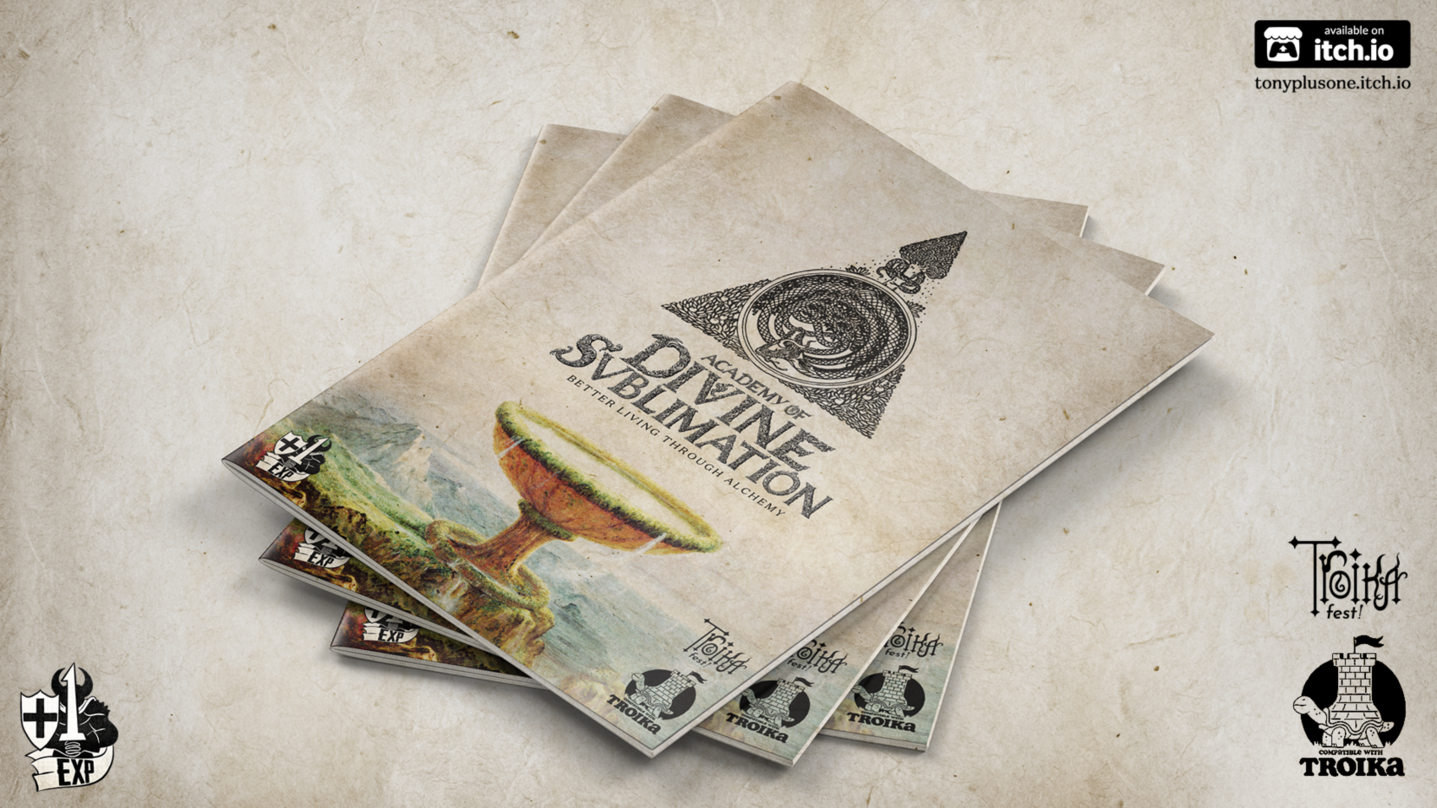 The Academy of Divine Sublimation is an independent production of Plus One Exp and is not affiliated with the Melsonian Arts Council.
It includes art and layout by by Johnny Isorena & Olin Vasinda.
It is written and designed by Tony Vasinda and R. Alex Murray.

For every 10 in support at any level you create an additional community copy!
Purchase
In order to download this game you must purchase it at or above the minimum price of $10 USD. You will get access to the following files when they are released:
DivineSubLayout-Draft-4_13.pdf
Further Distillations of Divine Knowledge
Support this game at or above a special price point to receive something exclusive.
Remind Me Reagent - Keep Me Up To Date
You understand the basic components of alchemy & you want to stay up to date about our efforts, get a reminder when the funding period is almost over, or hear about major developments in the process.
Physical Phormulary - A Physical Print Copy & Digital
Ah! You are a true alchemist and desire to put the unifying knowledge of graceful transmutation in your pocket and travel the spheres in style!
Excellent.
When you select this reward you get a digital copy, add a community copy, and if we go to print you get an A6 print copy of Academies of Divine Sublimation!

Also when purchasing at this level we add 2 community copies.

US shipping included. Add $5 for international shipping.
Meet The Masters - A Session of Sublimation With Us
Your desire to learn has exceeded that of the neophyte. You want to become a master of sublimation and the hermetical arts. You will receive all the above, but also have the chance to sit down with Tony Vasinda & R. Alex Murray and a few friends to go on a bespoke adventure in our Academy.

Get a digital copy, print copy, add 10 community copies, and get a game session with Tony & Alex.

North American shipping included. Add $5 outside of US and Can
Community Copies
Alchemy is for those with access to resources.
Games are for everyone!

Every time someone spends $10 on this game we add 1 community copy for folks who can't access the game otherwise!

If you would like a digital copy of this book, but can't afford it right now, for what ever reason, please select this level and access the hermetical arts.

Download demo
Comments
Log in with itch.io to leave a comment.
Any updates on a release date?
Hey Billtron. We had a death in the family a couple months ago that threw us out of whack on lots of project timelines and this was one of them. Sorry for the delay on this. At this point the earliest due to printing schedules will be late August, but digital should be up right after GenCon as we get everything back on track.
Hey it's been a year since this was funded, is it still in production?
Hey Cray Lives!
It was a crazy year and I just realized we never released the final version!
I just popped it up last week to do an editing pass and then kick it over to layout.

I really love everything about this one. :)
Thanks! I can't wait to get the final version out! We just unlocked another goal this week!